Now booking for October 2018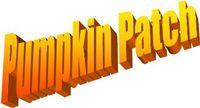 The Pumpkin Patch and Petting Zoo
...that comes to you!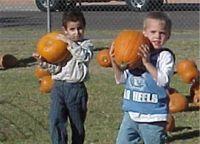 Imagine your students' excitement as a pumpkin patch magically springs up on your playground.
That's right, our traveling pumpkin patch and petting zoo comes right to your school. Instead of going on a field trip, why not have the farm come to you?
We will bring the pumpkins and the hand-tamed farm animals for your kids to enjoy.
It is a fun and educational experience for everyone. For larger groups we can even add pony rides or inflatables to make it a whole school event!
Need more information, pricing or want to make reservations?
or call us at 480-820-8030
---
If you believe your child's school would like this activity please share on your favorite site!
Perfect for Schools, Preschools and Day Care Centers...
It's the field trip that comes to you...
It's Fun!
Each child will spend time in our petting zoo; enjoying a variety of hand tamed farm animals. Then each will pick out their very own kid sized pumpkin.
It's Educational!
Take advantage of our visit to teach your students about various animals as well as life on the farm, close up and hands on.
It's Convenient!
Avoid the long hot bus trip that usually accompanies a field trip. Forget about the hassle coordinating parent volunteers and chaperones.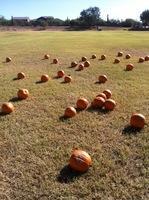 It's Worry-Free!
No crowds to navigate through. No fear of loosing track of children.
No potty breaks in unfamiliar surroundings.
It's Safe!
We bring the farm to you! We set up our portable petting zoo on the school grounds.
Your students do not need to leave campus to pick out a pumpkin and enjoy a visit to the farm!
Times book up fast so call 602-820-8030 or email us today at acjoyinfo@gmail.com
Join our Birthday Club and receive special member discounts!
Membership in the Birthday Club is always free and there is no minimum membership commitment, you may cancel at any time.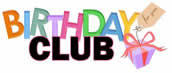 ---
Here's what some of our customers have recently had to say about us:
---

Shannon P. 03/05/15
I was happy to find that you had the Teenage Mutant Ninja Turtle bounce house that my 6 year-old really wanted for his birthday party. Also, the gentleman who came to set up the bounce house was very friendly, professional, and made sure I knew what to do in case of an emergency.
---

Donna B. 02/26/15 The party was for my granddaughter who turned 4, she loved the pony. It was wonderful. Also your staff was very professional and nice, good with the kids and watched out for their safety. If I had the money I would do it again. Thank you for making this big day a special one, and thank you for the great customer service.