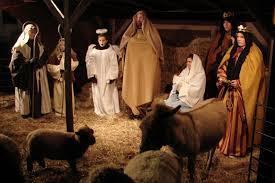 Living Nativity Animals 1hr min
Want to add real animals to your Living Nativity this Christmas?
Our hand-tamed farm animals are raised especially for our Petting Zoo. They've been bred and selected for their easy temperament and hugability.

They should help you recreate the Nativity without being a distraction. We will set up a pen along side your Manger scene that you can use for display, petting over the fence or visiting inside the enclosure. Your volunteers participate/watch over it or staff available for an extra fee.

Our Donkey can be led by Joseph and the sheep and goats can be tethered or led by your Shepherds if you don't want them in the pen.
Call us at 602-820-8030 and we can discuss your ideas in detail.
Call or email us with any Questions. Be sure to leave an email address & phone number or we can't reply.